This tutorial was created by Rapsody on
November 13, 2011.
Any similarity to any other tutorial is purely a coincidence.
You may share this tut but please share the only the link, thank you
♥
I am using PSP 12 but any version should work!

We are using the amazing art of
Susan Justice
you must have a license to use this tube. Gretchen's tubes can purchased at
UpYourArt
This gorgeous now FTU scrap kit " Somersham Wedding" is found at
DigiCats
!
We will be using:
DCD_SoWe_Decoration01
DCD_SoWe_Snowy Tree02
DCD_SoWe_Snowflake08
DCD_SoWe_Christmas Candles02
DCD_SoWe_Jewel02.
DCD_SoWe_Pinecone01
Paste DCD_SoWe_Wedding Rings

**After you use each element close it so you have a clean workspace.
Font:

I also used Engravers MT 60
for the couples name, black with white, same drop shadow.
Okay, let's get started!
*Open a canvas 600 x600 flood fill white. I like to have the white so I can see my creation better as I work on it.

We will delete this later.
Paste your tube as a new layer, resize 85% add black drop shadow on a new layer with these settings: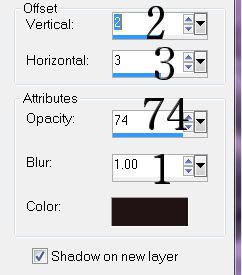 *On your shadow layer, go to effects, texure, Fur with these settings: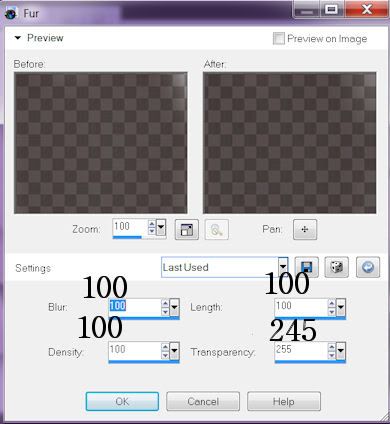 *Return to your tube layer, add DCD_SoWe_Decoration01 as a new layer, resize 80% duplicate, mirror, resize 80% and arrange to the right see tag for reference.
*Go to your white bottom layer and add DCD_SoWe_Snowy Tree02, resize 75%

and move to the right, copy and paste into new selection on the left side. Next, add DCD_SoWe_Jewel02 as a new selection and place between the 2 trees up top, selection none.
*Go to your tree layer and add DCD_SoWe_Snowflake08 as a new layer, resize 50%, arrange to the left of the trees, copy and paste as a new selection on the right of the trees to your liking see the tag for reference.
*Go to your top layer, and paste DCD_SoWe_Christmas Candles02 as a new layer, resize 75% and move to the bottom left, selection none.
*Paste DCD_SoWe_Pinecone01 as a new layer, resize 30%, mirror, and position at the base of the candles, selection none.
*Paste DCD_SoWe_Wedding Rings as a new layer, resize 25%

move to lower left.
*Apply your "Winter Wish" word art.



*Make sure everything is where you like it, then delete the bottom white layer, and merge visible.


*Resize 80%.

*Apply your copyright, url, and license number.
*Add names, using your Engraver's font, using black and white, use the drop shadow from above.
*Save as a PNG, you are done, YAY
♥
Thank you for visiting and doing this tutorial, I hope you found it enjoyable. I would love to see your results and I welcome any suggestions at
CustomerService@UpYourArt.com
Raps
♥
♥
♥
♥